It's coming up to that spooky time of the year when we see ghosts, werewolves, clowns and more roaming about the streets asking for treats!
Halloween is celebrated on the 31st of October, it's origins can be traced back to the ancient Celtic festival Samhain. People dressed in costumes and lit bonfires to ward off spirits as it was believed that on the 1st of November, the souls of the dead returned to their homes.
You might be thinking of hosting or attending various Halloween parties, we reckon a Halloween barbecue would be a great idea – a BBQ is for everyone, whether you're hosting one for kids, teenagers or adults, everyone loves good food.
We're going to run through a few things that will perfect your Halloween barbecue, so if you're a chef, event planner, caterer or even a parent scrambling for ideas on what to do – we've got you covered.
Decoration
You can't have a Halloween BBQ without a few pumpkins, skeletons, spiders and an array of orange and black spread across your outdoor space. Decoration is key – you're not hosting a normal barbecue, this is Halloween!
Get Dressed Up
If you're a company and you have a team of caterers or chefs, dressing up in Halloween costumes will make sure your guests know you've gone the extra mile. It would be a great talking point and a good laugh. Who wouldn't want Frankenstein cooking their sausages?
If you're just hosting one by yourself for your friends and family – get a costume and ask your guests to dress up as well! You can even provide props for them to pick from such as devil ears, masks, hats and more – if someone's forgotten to bring a costume or simply doesn't have one, they won't feel left out.
Scary Cocktails
If you're hosting a Halloween BBQ with over 18s, creating some themed drinks could level up your barbecue event. Drinks that are red, green, purple and orange would really fit your theme – you can either come up with them yourself or browse the many recipes online. Make sure they have scary names! Your guests could even make cocktails themselves, by laying out the ingredients and creating a 'potion-making' table, your guests feel more involved in the BBQ.
Halloween-themed Food
You can't just be serving regular burgers and sausages if you're hosting a Halloween BBQ – you have to go all out on the food! Get creative, try a pumpkin soup for starters or even a pumpkin pie for dessert, pumpkins aren't just for decoration you know! Some devilled eggs are a great option. Bake some scary cupcakes for dessert. BBQ ribs in the shape of a skeleton! There are plenty of options to make your food Halloween-themed.
Halloween Activities
Alongside the potion making activity we've already mentioned, there are a few different ideas that you can do to get your guests involved in the celebration of Halloween. Arrange a scary movie night, especially if it's a nice day, your guests can get cosy sitting outside watching the horror classics. Why not buy a pinata in the shape of a witch, ghost or pumpkin?
Spooktacular Barbecue Equipment!
If you're hosting a Halloween BBQ, or any sort of barbecue event, you'll need top notch barbecuing equipment. At Cinders, we supply a wide range of barbecue grills you can buy, our barbecues are well known for their quality. Don't want to purchase? That's fine too! We also offer a local search for barbecue rental services.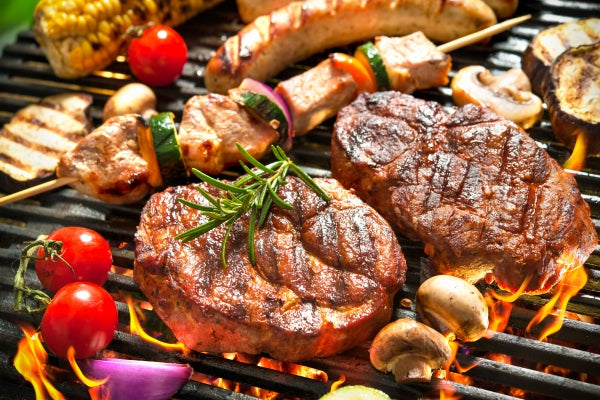 We hope you have a great Halloween!