As the UK is returning back to normality, many happy couples are waiting in line to be joined in marriage. Talking about normality, the traditional wedding reception usually consists of a three-course meal or a buffet. Many people want to take their reception in a different direction. Sizzling kebabs, chicken, beef, steak, vegetables all being cooked right in front of wedding guests – a beautiful & delicious wedding BBQ.
So, if you're a catering company that is new to the BBQ world or you just want a few more tips after weddings were stopped due to COVID, we can help you make the right steps towards planning the perfect BBQ.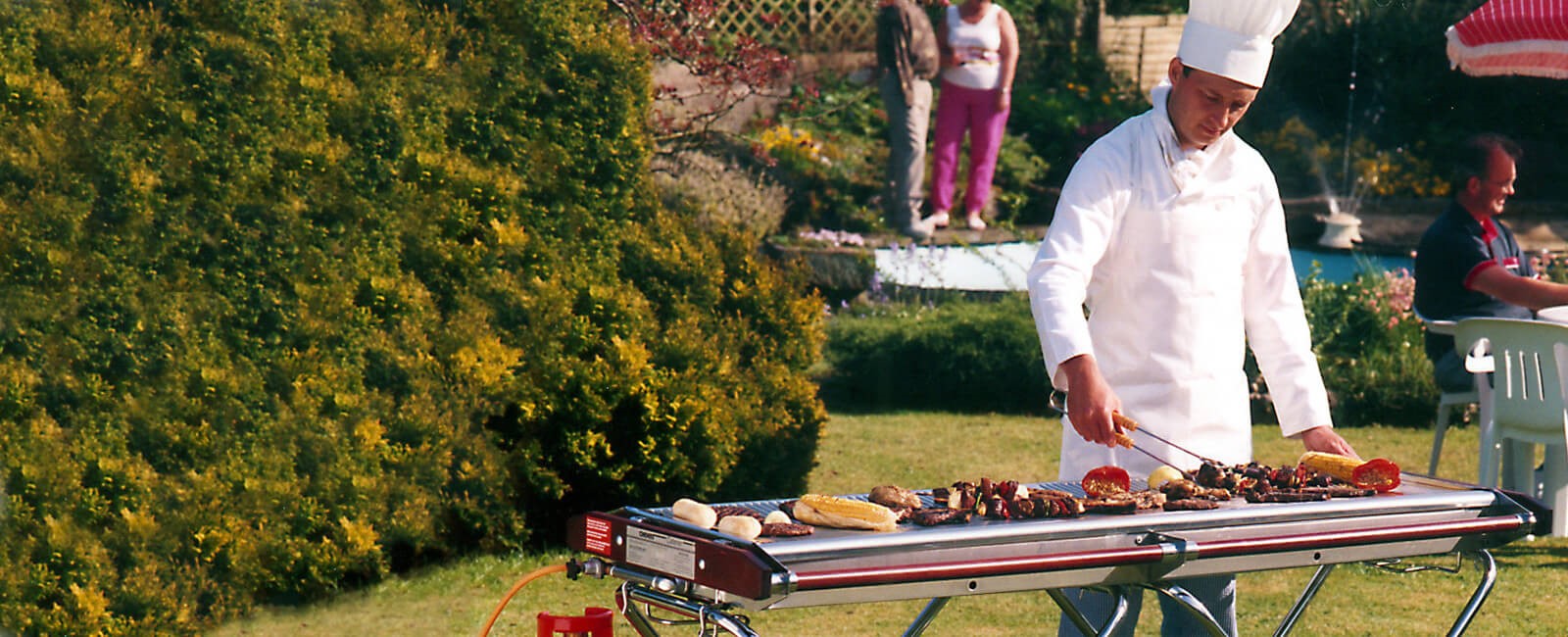 Step 1: The Food
First things first – what kind of food will your guests like? This is when we need to take into consideration dietary requirements such as allergies or if any of your guests are vegan or vegetarian so always make sure you've got a section for the veggie lovers!
What's your centrepiece going to be? A hog roast is always a great choice – it looks extremely impressive and tastes delicious. Lamb on a spit would also look and taste amazing! Or are you even going to have a centrepiece? You can just stick to a wide range of delicious food such as kebabs, burgers, steak, sausages and whatever you fancy!
For the non-meat eaters, make sure to include some sort of fish dish like tuna steaks, king prawns, salmon or fish skewers. Halloumi makes a great option for vegetarians! Corn on the cob, vegetable skewers and grilled aubergine would suit any vegans attending, you could also make a delicious vegan pasta salad.
Make sure to have a diverse menu your client can pick from.
Step 2: Choosing the right equipment
You've got the menu, now it's crucial you have the right equipment to pull it off, especially if there's a lot of people attending the wedding.
You'll need a big enough barbecue to handle all that food – it needs to be reliable, trusted and versatile.
This is where we come in, our barbecues are hand crafted and known in the catering industry as being one of the best choices for events. We've been in business for over 35 years, throughout this time, our barbecue design has been refined and has become better & better. Take a look at our barbecue products and you can choose the right one for you. You can also rent a BBQ for an event if you don't want to fully commit to buying one.

Step 3: Setting the BBQ up
Now you've got the menu and the barbecue, it's time to set it all up at the wedding. Set up your stations, making sure the side dishes, main dishes and veggie options are all in the right place. Now you can sit back, relax and watch the guests enjoy your fantastic BBQ!
If you have any questions regarding our barbecues, please get in touch, we'd be more than happy to help with any of your requirements.