If you've been following our blogs over the past few months, you'll have noticed our series aimed at helping you set up, maintain and sustain a successful catering business by offering our industry expertise and providing you with top tips about things to keep in mind.
We recently wrote a blog about how to market your outdoor catering business effectively in the early stages of its inception, and how to create a sustainable and reliable brand which people will recognise if talked about either face to face or on social media.
In this blog we will go into more detail and provide you with some expert tips on how you can leverage the world's biggest and most used social media network to help boost your sales and brand awareness, making sure you sell out of stock every day!
Create Your Facebook Page
Almost goes without saying, however make sure when you register your business on Facebook, you do so as a business page, and not a personal account - don't make this classic error!
You can do this simply by signing into Facebook as yourself as you normally would, then click on the far top right arrow, selecting 'Create Page'. You'll then be presented with the screen below where you can enter the basic information about your business.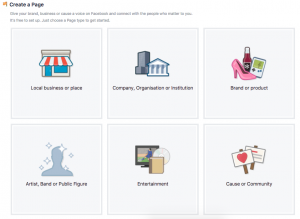 Brand and 'Name' Your Page
Make sure you populate the 'Profile' image and the large header image with your branding. Make no assumptions that people will simply know it's you by the name. Upload your branding to make sure everyone knows for a fact that it is your catering brand's official page which they can trust!
After you have 30 'Likes' on your page, you can then create your Page's 'handle. For example, our handle is @cindersbbq which allows people to tag us in pictures, posts and engage with us as a brand. This is very important when you're trying to interact socially with people and businesses on Facebook.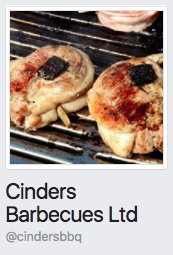 Invite People to 'Like'
After your page is live, and you have all of your branding and key contact information in place, now you can start inviting your friends and family connections on Facebook. Initially, you'll only be able to do this with people you are 'Friends' with - but always ask them to share your page with their friends and that's how you start to gain traction in receiving your page's 'Likes'!
You can do this by either of the screen shots below. As you're setting up your page, Facebook will prompt you to do this anyway!
Be Yourself
The key to standing out on any social media platform, especially Facebook is to have a personality; and what better personality to have other than your own!?
Don't fall into the boring, complacent trap of publishing stock images of 'tasty food' - show everyone what you're up to and use your sense of humour! Have a realistic voice which your followers will respond to and want to engage with.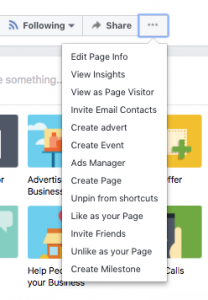 Always Publish with Pictures
The key to gaining trust and an active following is by publishing updates to your page regularly. You don't want people who have just followed your page to see your last post was over two months ago! Make sure you're publishing every day, and most importantly…
Never publish an update from your Facebook page without some sort of visual media such as photos, videos...etc. Make sure everyone can see your face, and your staffs faces as well as your delicious food which everyone will want!
Photos of food are brilliant, but people are more likely to take notice and engage with an update with a human face - so make yourself famous and show everyone your face!!
Invite People to 'Tag' and Check In'
The all-important link between the digital space and real life - make sure you're asking people to tag you in pictures they're taking of their food! Foodies will do this almost obsessively, so don't miss out on the opportunity for some free marketing and spreading the news about your amazing street food.
You could perhaps even offer a discount to people 'checking in' at your food stall and tagging you in a foodie photo! Make sure you're talking to people, starting conversations and linking it to your active and bustling Facebook page!

10% Discount When You Check in at *Insert Company Name*!!!
Consistency is Key
As we mentioned above, make sure you're updating your page regularly with your pictures, videos, news and updates about new and exciting options available!
As people are now able to review your company on Facebook, making sure you're consistent not only with Facebook, but also with the high quality of your food and service is essential. Without this you will start to receive negative reviews on Facebook and lose all of the hard work you're doing to create your local foodie community!
As always, at Cinders we offer the highest standard of robust, reliable and compact catering standard barbecues for catering companies of all sizes. If you would like to find out more about our professional barbecue products, please get in contact for a friendly chat - hey, and why not Like us on Facebook!?