It's National Burger Day on August 26th in the UK! This day was created by Mr. Hyde, a daily email service for men.
If you're in the catering or food industry, you'll know just how much we all love burgers. They've become a staple in the food world because of their taste but also because of how versatile they are. You can put just about anything in a burger and chefs have gotten more adventurous as the years have gone on.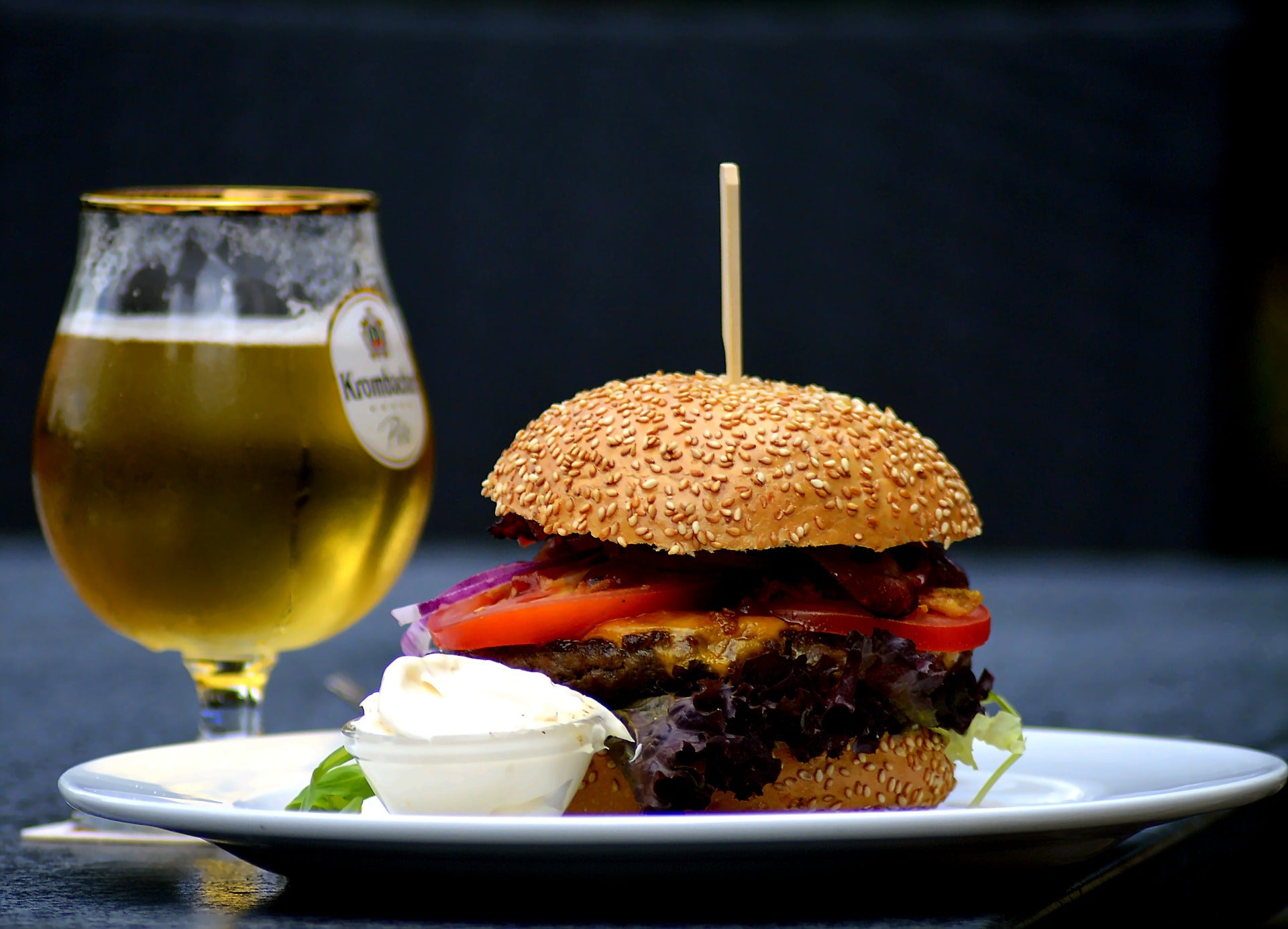 It wasn't always like this though – burgers used to be just a piece of meat in between two slices of bread. Now we see restaurants and chefs experimenting with a range of toppings from mac & cheese to ice cream. The doughnut burger also went viral some time ago – a burger with two donuts as the buns!
We've seen a lot of crazy inventions when it comes to burgers, we're sure you have too. There's been the Japanese inspired burger, with Ramen noodles as buns, you might also remember the black burger from McDonalds that came out in Japan, it was a viral sensation, the buns were dyed with squid ink. The Yorkshire pudding burger sounds like our favourite though, the buns are Yorkshire puddings! How fantastically British. There's plenty more examples and we can go on & on, but just know that if something is edible, then it's probably been used on a burger before. There are no limits!
Now we've told you a bit about National Burger Day and burgers in general, it's time for the best burger toppings ideas – whether you're a caterer, a chef, event planner or just someone looking for ideas on what to put on your burgers at home, we've got the answers.
Fried egg – there's not many things better than biting into a burger and getting a beautifully cooked runny egg, the oozing yolk is a step up for any burger. It might be a bit messy, but it's seriously worth it.
Red peppers & cheese – whether roasted or sauteed, red peppers make a great addition to any burger, pair this with your favourite cheese and you've got a winner. The two flavours complement each other so much when topped on a burger.
Fried or caramelised onions – there's no debate that onions are amazing on a burger. Whether they add sweetness with caramelised onions or crispiness with fried onions, you can choose.
Mac & cheese – it's another messy one, and you're probably going to have a hard time picking this up with your hands, but a burger smothered in mac & cheese is just divine. It sounds so wrong but it tastes so right.
Chillies – if you're a fan of spice, this is the perfect topping for you, heat up your BBQ by stacking your burgers with red or green chillies
Bacon – do we really even have to explain this one? Adding some crispy bacon makes sure you get a perfect crunch in every bite.
BBQ sauce – there's no denying that burgers and barbecue sauce are a match made in heaven.
Pesto mayo – the combination of pesto mayo, avocado, cheese and lettuce on burgers is just delightful, it's a nice twist on classic burgers
Grilled pineapple – the pineapple-on-pizza haters are reading this in disbelief right now. But hear us out! The contrast of the sweetness of the pineapple & saltiness of the burger really works, it's a delicious combination.
Mushrooms – another controversial one! A stack of sauteed mushrooms in a cheeseburger creates a gorgeous, earthy topping.
The classic – sometimes you just can't improve on the original, and the BBQ you're hosting just requires burgers with the classic toppings – lettuce, onion, tomato, gherkins, cheese & ketchup. It's classic for a reason after all.
That's our list of the 11 best burger toppings ideas, if you haven't tried any of the above, we seriously advise you to give them a go! If you work in the food catering industry and host a lot of BBQs, the addition of an adventurous burger on your menu could be extremely beneficial and make your menu stand out to potential customers. There's a reason why so many weird burgers have gone viral – the black burger, the ice cream burger, the donut burger, burgers drenched in cheese – people want to try something new, whether it's for the novelty or for the taste. Try something different with your burgers!
Speaking of burgers, Cinder's barbecues are perfect for grilling everything to perfection. So, if you're hosting a BBQ event and need to cook burgers, whether you're topping them classically or going down the experimental route, our barbecue products are ideal. You can purchase one of our state-of-the-art BBQs or we offer a local search for barbecue rental services, where you can hire our barbecuing equipment.
Thanks for reading our blog post! Make sure to tuck into a juicy burger on August 26th, we sure will be doing.