The ultimate American food tradition, BBQs are much loved in the United States. Us Brits do love firing up the grill, especially in the summer months, however, BBQs are a bit more of a big deal in the U.S.
With thousands of Americans passionately claiming that their home state makes the best BBQ food, these debates usually come down to North Carolina, South Carolina, Kansas City, Memphis or Texas. These states have their own regional American BBQ styles, each consisting of their own specialities, tastes, spice levels and techniques alongside the backing of their many loyal followers that insist their regional style is the best.
In this blog post, we're going to go through the four regional styles and how they differentiate. If you're planning on hosting an American BBQ soon, this is a great guide on what authentic, signature dish you should serve up depending on the region you go for.
The 4 Regional American BBQ Styles
Carolina
One of America's oldest forms of barbecue, Carolina focuses on pork as its meat of choice. North Carolina and South Carolina are often pitted against each other in the great barbecue debate in the United States, their style of BBQ is similar but some key differences are creating neighbourly squabbles between the two over whose version is better.
South Carolina smokes up the whole hog, serving up the stomach, neck and shoulders. It's usually said that North Carolina prefers just the pork shoulders, however, we can still split North Carolina up into whether their residents prefer Eastern whole hog BBQ or Lexington-style pork shoulder. Western North Carolina residents are all about the pork shoulder rather than the hog whereas the East argue that whole-hog cooking is the official BBQ style of their state.
Another key difference is in the sauce; North Carolina brushes their pork with a spice and vinegar mop whilst it's cooking. In the Western part of the state, their pork is served with a ketchup-based sauce whilst a clear, vinegar-based sauce is served in the Eastern part. South Carolina sauces are mustard-based instead.
If you're wanting to serve up a Carolina-style BBQ to any guests, you'll be looking at pork shoulder served with hush puppies (small, deep-fried dough balls), green beans and coleslaw as your main dish.
Texas
The champion of beef BBQ, Texans' meal of choice is beef brisket and juicy ribs! The meat is the main attraction in Texas, so they season their beef with a simple salt and pepper rub and it isn't accompanied by any sauce. Slow-cooked for around 18 hours over oak, Texas relies on the taste of the extremely smoky and tender brisket rather than any seasoning or sauce, and it obviously works due to how many Americans love it! However, like North Carolina, Texas is also further divided up with East Texas favouring sausages and beef sandwiches slathered in a spicy sauce, although it's the central Texan way of cooking that has won so many hearts (and mouths) around America.
If you're hosting an American barbecue and are leaning towards the Texas-style, a meal of brisket and ribs with sides of white bread, pickles, beans, potato salad and coleslaw should suffice!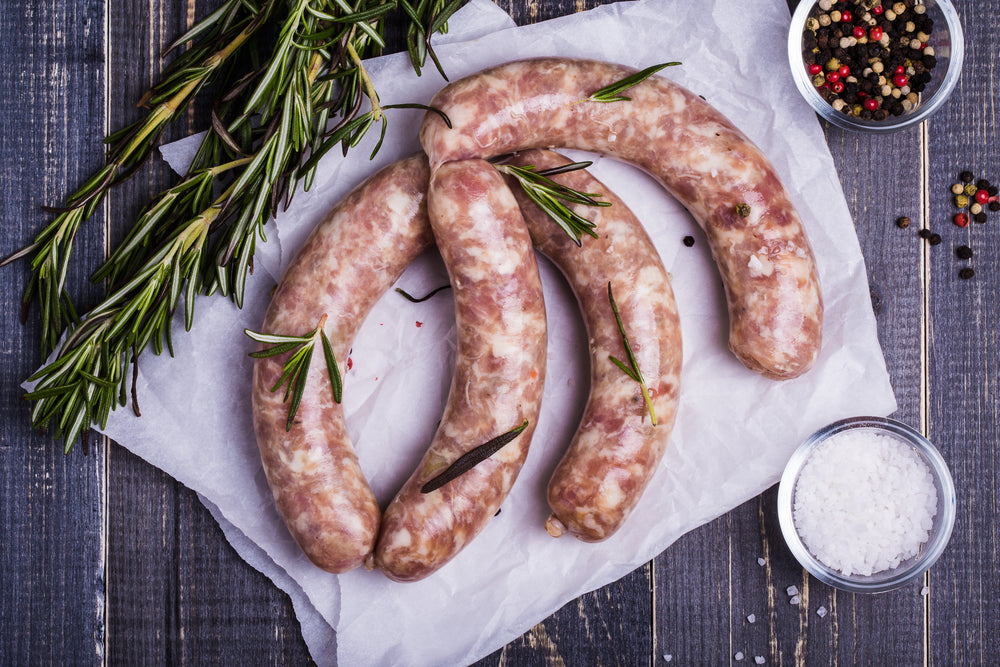 Memphis
Memphis, Tennessee – the home of succulent pork ribs! Like Carolina, pork is the primary meat of a Memphis barbecue. Specifically, pork ribs are the pride of Memphis and they prepare them either wet or dry depending on residents' preference. Many people argue that a Memphis BBQ shouldn't feature a sauce at all and should focus on dry rubs due to how juicy and flavourful the classic pork ribs are. The dry rub is extremely important and features paprika, garlic, pepper and cayenne, a lot of recipes even suggest using up to 40 spices! After seasoning the ribs, they're then placed on a pit to slow cook.
An authentic Memphis barbecue restaurant also serves up barbecue spaghetti – spaghetti with a half barbecue, half marinara style sauce, topped with pulled pork, peppers and onions.
Opting for a Memphis-style BBQ? Serve your guests pork ribs with sides of mac and cheese, cornbread, baked beans, coleslaw and greens. Try your luck with barbecue spaghetti if you're feeling like a challenge!
Kansas City
Last, but certainly not least (depending on who you ask!) is Kansas City style BBQ. Carolina have pork shoulders, Texas have beef brisket and Memphis have pork ribs as their food staple. You might be wondering what Kansas City's speciality meat is. They don't have one! Kansas City is known for variety whether it's pork, beef, chicken, turkey or mutton – they will smoke up any meat! Their pride is their sauce, known as the most popular BBQ sauce, the Kansas City-style barbecue sauce is the basis of many sauces you will find in supermarkets, it's ketchup-based and enriched with molasses. Brown sugar is the prime ingredient of Kansas City rub, with paprika also featuring.
Alongside their trademark sauce, Kansas City is also known for their burnt ends, the crispy tips of brisket.
Serving up a Kansas City style BBQ? Prepare meat of your choice coated in a sugar and paprika dry rub, don't forget their signature BBQ sauce, serve with burnt ends, beans, macaroni and cheese, collards and coleslaw.
How to BBQ Like an American
America might be the home of authentic BBQ; however, the best barbecue grill actually resides in Lancaster, England! Ok, that might have been a slightly biased statement, but we believe our grilling equipment is second to none! If you're going to host an American BBQ, you'll need the right grill to do it. Our trademark grill has been a success for over 35 years and our dedicated team handcrafts each product. Take a look at where to buy the best BBQ grill or use our local search for barbecue rental services.