Everyone loves a barbecue, there's nothing better than firing up the grill in the summer months. However, if it's your first time hosting a BBQ or you want to experiment with new ingredients, you might be wondering how to barbecue certain foods so that they taste the best they can.
Not to worry – here at Cinders, we are experts in all things to do with barbecuing, we have been for over 30 years!
In this blog post, we're going to run you through how to barbecue different food, this is for chefs, caterers, event planners and just the average BBQ lover…
How to BBQ Steak
First up is the beautiful meat that is steak… Now, even though we do have an opinion, we're not going to start a debate on how to cook the perfect steak whether it's blue, rare, medium rare, medium or well done – that's for you to decide.
Here are the steps on how to cook steak on the grill:
Prepare your steak by using a dry rub or a marinade
Prepare your grill – experts suggest establishing two cooking zones on your grill, one that's extremely hot and one that's set at a medium temperature
Place your steak on direct high heat, this will sear the outside
Cook for 1-2 minutes, making sure to turn the steak once
Move the steak to indirect heat/medium zone of heat
Cook your steak to the desired temperature (see our below advice on how long to cook a steak for)
Take it off the barbecue and let it rest for a couple of minutes before serving
How long to cook a steak?
If you're wondering how long you should be barbecuing your steak for, this is our advice:
Rare – 6-8 minutes
Medium rare – 7-10 minutes
Medium – 10-12 minutes
Well done – 12-15 minutes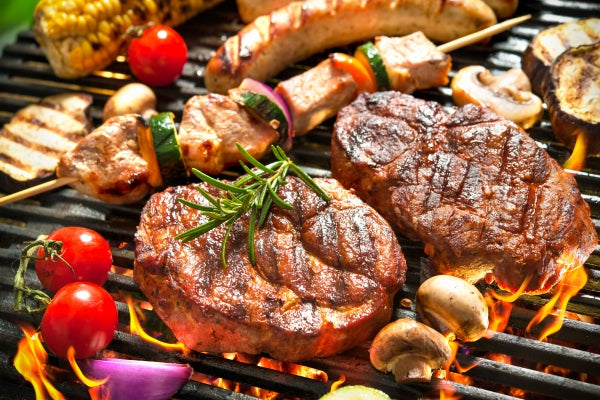 How to BBQ Salmon
It's not an extremely popular food to barbecue, but it's certainly delicious, grilled salmon can be the perfect option for you and your event, especially if you've got guests that are pescatarian. However, you don't have to have guests that are pescatarian to experiment with grilled salmon, seriously, let's put some focus on fish as well as meat!
Here are the steps on how to grill salmon:
Prepare your grill, preheat, add briquettes etc. make sure it's HOT
Oil / season your salmon however you like
Place your salmon on the grill skin-side down
Keep your lid on the barbecue if you can
Cook your salmon for 6-8 minutes, the fish will stick to the barbecue at first, but when the skin crisps, it will release
Flip your salmon once and cook for 1-2 minutes
Take your salmon off the grill and let it rest for 1-2 minutes
Strip the skin and serve
How to BBQ Sweetcorn, Corn on the Cob
You can't really get any better than biting into a beautiful grilled corn on the cob, they're ideal for any BBQ. Adding heaps of butter on your sweetcorn, watching it melt, then taking a big bite is just divine – is your mouth watering yet? Mine certainly is.
Onto the steps on how to grill corn on the cob:
Remove the husks off the sweetcorn
Prepare your grill, make sure it's hot
Brush the corn with oil
Place the corn on the grill
Turn them with tongs & season with salt and pepper as you go
Keep turning them until all the kernels are toasted, this should take around 10 minutes
Take your sweetcorn off the grill, make sure your guests have butter & serve!
How to BBQ Halloumi
Halloumi has infiltrated the UK as one of the most-loved cheeses, and we can see why! Halloumi is perfect for barbecuing, unlike other cheeses which would make your grill a soggy mess, halloumi has a really high melting point.
Grilled halloumi has become extremely popular within the UK, here are the steps on how to make grilled halloumi cheese:
Prepare your halloumi by slicing the block into thick pieces
Prepare your grill so it's hot
Place your halloumi on your BBQ
Grill your halloumi for about 3 minutes per side
You'll know it's ready when you see golden brown streaks
Take them off the grill and serve!
Halloumi pairs best with a sweet chilli or chilli jam dip
How to BBQ Asparagus
It doesn't have to be all about meat when you're hosting a BBQ, you're going to want to include some delicious veggies to create some balance. Grilled asparagus is just perfect to create that balance – it tastes great and adds something to your event for the vegetarians and veggie-lovers.
Here are the steps on how to grill asparagus:
Preheat your BBQ
For an easier time cooking, you can use wooden skewers to stop the asparagus falling down into the barbecue (optional)
Coat asparagus with olive oil and season with salt and pepper
Cook for around 3-5 minutes or until nicely marked and cooked through
Serve!
How to BBQ Fish
We've talked about how to grill salmon, now let's talk about how you can grill a whole fish on the barbecue. For cooking fish fillets, use the same method as cooking salmon. You can even dice fish and serve as fish kebabs!
For something that catches the eye, barbecuing a fish whole is a great choice, it's simple and delicious. Here are the steps on how to BBQ whole fish:
Preheat your BBQ
Prepare your fish – make a marinade with oils/herbs or whatever you'd like
Make diagonal cuts on the fish
Stuff the cuts with your favourite flavours – lemon, herbs, ginger, chilli etc.
Rub the fish with oil
Place your whole fish on the grill
Cooking time depends on the size of the fish – sardines will take a lot less time to cook than trout or sea bass. Small fish like sardines can take 3-5 minutes, medium fish can take around 15-20 minutes and big fish (over 1kg) can take around 20-30 minutes.
Make sure to turn your fish so it cooks on both sides
Garnish and serve!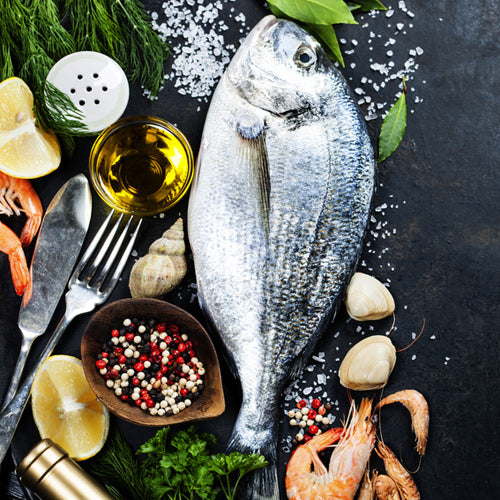 How to BBQ Ribs
One of the UK's favourites, it's an art-form to cook the perfect barbecue ribs. The result is a masterpiece. What meat-lover doesn't like ribs? They're extremely delicious and versatile – you can cook them with a dry rub or marinade them to create beautiful sticky BBQ ribs. You can have your ribs spicy, sticky, sweet, lemony, plain, salt & pepper and more - the list of flavours you can create with ribs goes on.
Here are the steps on how to BBQ ribs:
Prepare the meat – if your butcher hasn't removed the silver skin of the rib, you'll need to remove this before cooking, loosen the skin with a knife and use your fingers to pull it off
Make the marinade – there are plenty of ways to make a great marinade, we're going to leave this up to you
Soak the meat in the marinade and leave overnight if you can, turning the meat once or twice to make sure it's marinading evenly
Make a spice rub – some people just use either a marinade or spice rub, but using both makes sure your ribs are as flavoursome as possible
Take the ribs out the fridge, pat dry and then rub the spices all over them
Grill your ribs – you'll want to cook your meat over indirect flames, the meat can turn out chewy if you cook them over high heat
Make sure your barbecue is lidded and cook your ribs over medium, indirect heat for around 30 minutes on each side.
Move the ribs to direct medium heat and cook for another 20-40 minutes
You can occasionally turn and baste with your marinade or a different sauce
To test your ribs are cooked, insert a meat thermometer, your ribs should be 190°F (88°C)
Let your ribs rest
Serve & enjoy!
Those were our tips on how to BBQ steak, salmon, corn on the cob, halloumi, asparagus, fish and ribs!
We've told you about our tips on how to cook certain foods, but what are you going to cook them on? If you're in the market for a new barbecue for your events, Cinders can help, we supply top of the range barbecuing equipment and accessories. There's nothing worse than trying to grill high-quality and fresh ingredients on a sub-par barbecue, they'll just get ruined! Our barbecues are powerful, dependable and they come with a commercial warranty. Not looking to purchase but need to hire a BBQ for your event? We offer a local search for barbecue rental services!
Have any questions or queries? Contact us today.