What is Healthy Eating Week?
BNF Healthy Eating Week will take place from the 14th to the 18th of June 2021, this week is all about encouraging people to make healthier choices and implement positive changes to their lifestyle.
To celebrate this week, we decided to write a blog post all about how you can host a healthy BBQ.
So, if you're a caterer or chef that has an event coming up with health-focused clients or you want to add more balanced food to your normal menu, we can help!
The 7 Health Aims for Healthy Eating Week 2021
BNF have 7 health aims for 2021's Healthy Eating Week – one for each day of the week. The aims include:
Eating more whole grains – implement this in your BBQ by swapping white rice for brown or include whole-wheat pasta in your pasta salad.
Varying your vegetables – there are plenty of vegetables you can include in your BBQ - peppers, zucchini, mushrooms, aubergine, carrots, onions, broccoli and corn taste great when grilled.
Drinking plenty of water – make sure your guests are hydrated.
Moving more – you can include some music whilst your chefs are preparing the BBQ to get your guests up and dancing.
Being kind to your mind.
Getting active together.
Healthy eating together – a BBQ is a great event to get family and friends together, a healthy BBQ takes away the guilt of stuffing yourself!
How do I Make my BBQ Healthier?
Now we've told you a bit about Healthy Eating Week and why it's important, let's dive right into how you can host a healthy barbecue.
The Side Dishes
One way to make your menu healthier is to cut down on the butter, oil and high fat mayo in your side dishes – pasta salad, potato salad and coleslaw don't have to have heaps of mayonnaise to taste good! Often, adding more herbs and less mayonnaise can make them taste even better. You can also swap your fries & chips with a healthy and bright salad.
Choosing Healthier Meats
Make sure that your guests have the option of healthier meats – staying away from processed meat and looking towards grass-fed meat is the way to do this. You could also substitute your hot dogs for turkey dogs, turkey is known to be one of the healthiest meats, following closely behind chicken. White meat is much better for you than red, so swapping beef for chicken is also a great idea for a healthy barbecue.
A Seafood BBQ
Seafood is often overlooked in the barbecue world but grilled shrimp, salmon, cod, scallops and way more gorgeous seafood taste amazing and are very healthy compared to burgers and sausages. Many catering companies include salmon burgers in their menu for the vegetarians!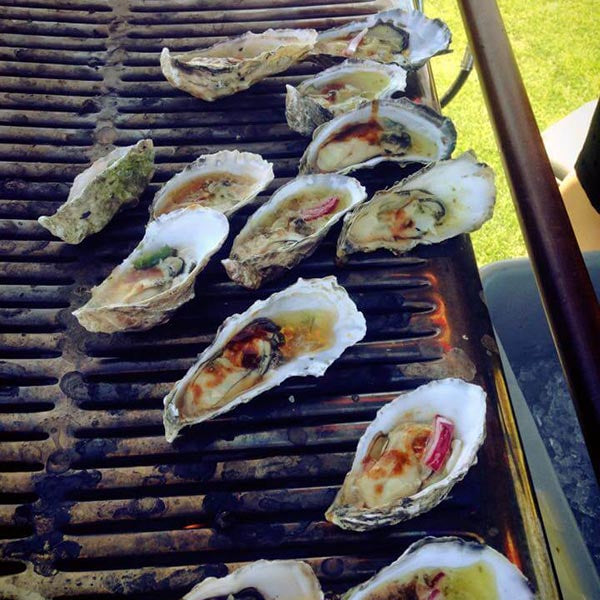 Don't Forget About Veggies!
We touched on adding vegetables to your BBQ in our paragraph about the 7 health aims, but it's important not to forget to add lots of vegetables! This is for health benefits and also for any guests who are vegetarian. No vegetarian wants to be invited to a BBQ and leave hungry, they often have to pick at the plates of salad and don't get a fulfilling meal.
Vegetables have got a bad rep and we can't see why! If you cook them properly, they're absolutely delicious. Grilled corn on the cob, bell peppers, zucchini, aubergine, broccoli, cauliflower, asparagus – the list goes on. Skewer these veggies and chuck them on the barbecue, they're a healthy alternative to meat and your vegetarian guests will leave feeling satisfied.
There's Such a Thing as Healthy Desserts?
The last thing is desserts – believe it or not, there are some healthier dessert options! Include some fresh fruit platters with pineapple, mango, watermelon, strawberries etc. or if that's too basic you can also make some gorgeous homemade ice cream or fruit-based ice lollies.
Use the Right Equipment
The most important thing for any BBQ, healthy or not? Well of course, it's the actual barbecue! Here at Cinders, we supply a wide range of barbecue products you can buy, our barbecues are well known for their reliability. Not looking to purchase a barbecue? That's fine too! We also offer a local search for barbecue rental services where you can hire our top-quality barbecuing equipment for your event.
We hope this helped you in creating a healthier menu for your guests! If you have any questions regarding our barbecues, please get in touch today.